Discussion Starter
·
#1
·
Let me start by saying I completely understand that an aftermarket intake will flow better than the OEM unit will, especially when fitted with a less restrictive filter.
I get that.
I was curious to see how well the stock intake flowed, but how to measure this? Well, it is quite common in vehicle fleets to see filter monitors installed. These are devices that measure how much vacuum is present in the vehicle's intake system after the filter. The more vacuum measured after the filter, the more restrictive (plugged) the filter has become.
As time goes by, air filters get plugged up with dirt and debris. The more dirt and debris, the less air it will pass for a given amount of vacuum from the engine. Less air to the engine, less power.
Most commercial air filter monitors consider a vacuum level of 25" H2O (water) to be the point where the filter should be changed. To visualize this, consider a hose connected to the air filter box behind the filter and the other end left to hang down into a bucket of water. The engine, operating at maximum power, would be drawing a vacuum in the intake sufficient enough to lift water 25" up the hose above the water level.
Here's an example of a popular 25" H2O filter monitor, sold by Wix:
Amazon.com: Wix 24800 Air Filter Monitor Kit: Automotive
The higher the vacuum level the farther towards the red area that yellow plunger is pulled. The plunger stays put at its "peak" vacuum reading and can be released by pressing the button on the bottom of the unit.
I decided to take a chance. I wanted to know how restrictive the Cruze intake was with a relatively clean air filter.
K+N, makers of high flow air filters (as most of you know) sells a filter monitor that recommends a filter change (or cleaning) when restriction gets to 10" H2O, much less than the 25" H2O commercial units. This makes sense since aftermarket performance intakes SHOULD flow better, and should be maintained that way.
Here's the 10" H2O monitor sold by K+N:
http://www.amazon.com/85-2445-Filte...bs_auto_2?ie=UTF8&refRID=0EBW63K4ECS7A8YXVR2E
And here it is installed on my air filter housing: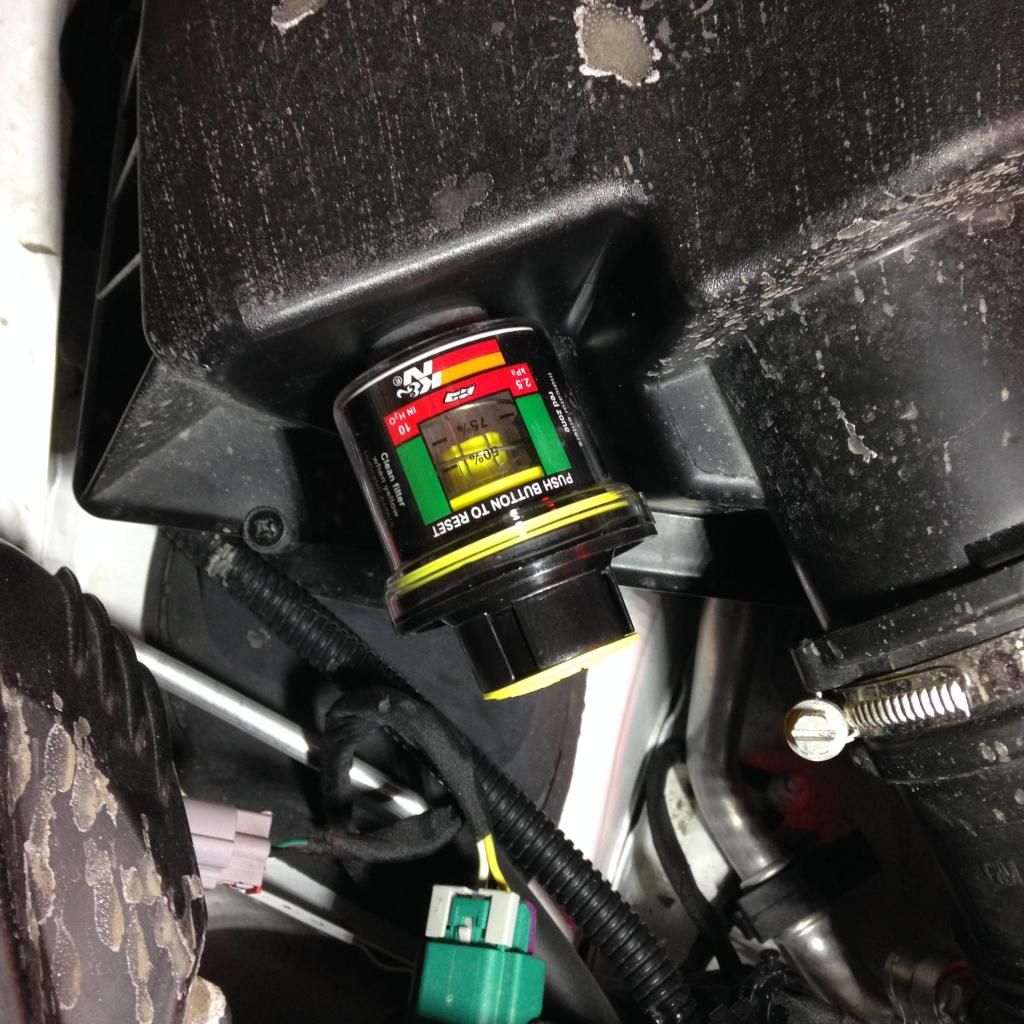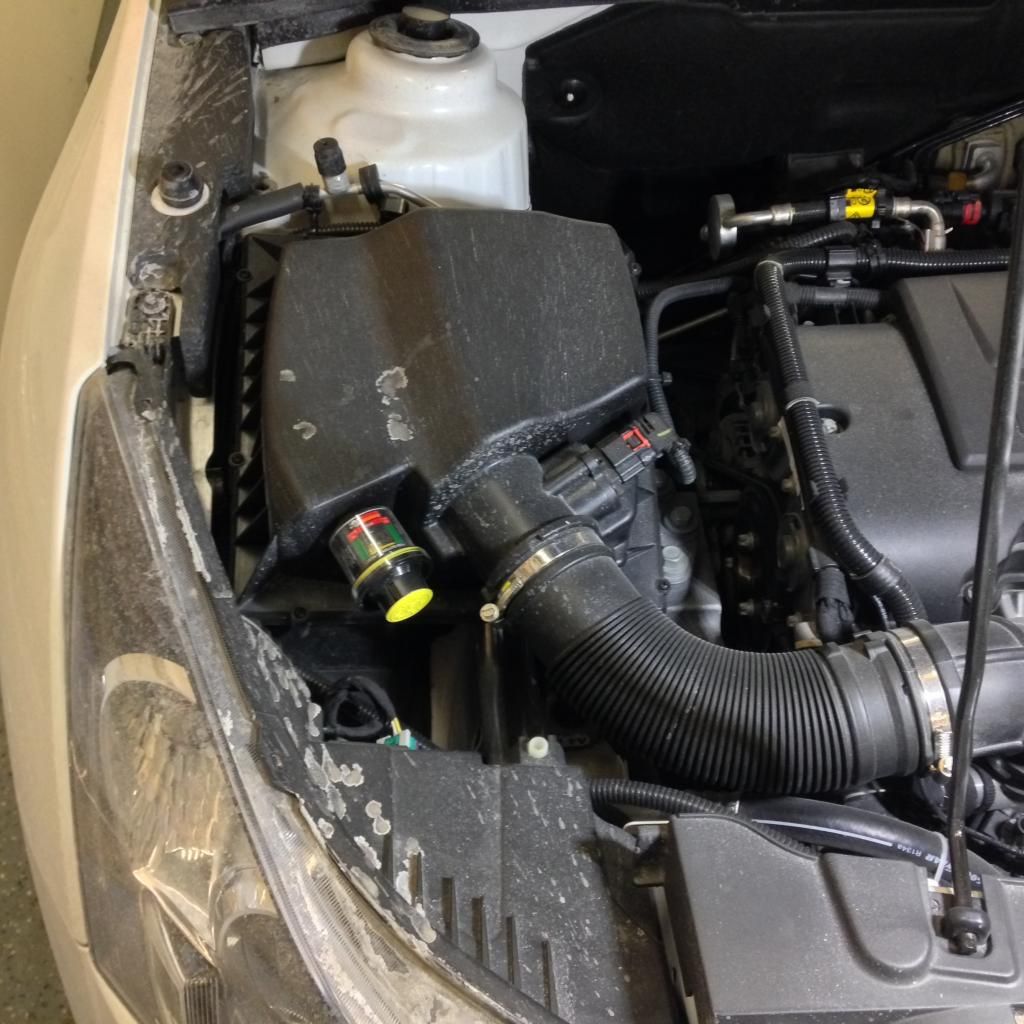 For the record, my intake is 100% completely stock. No tube delete, resonator still in place, everything exactly like it was when the car left the assembly plant... including the almost three year old air filter. Stock tune.
I drove around for a couple of days, making sure to do a few 2nd gear pulls to redline. I popped the hood and saw this: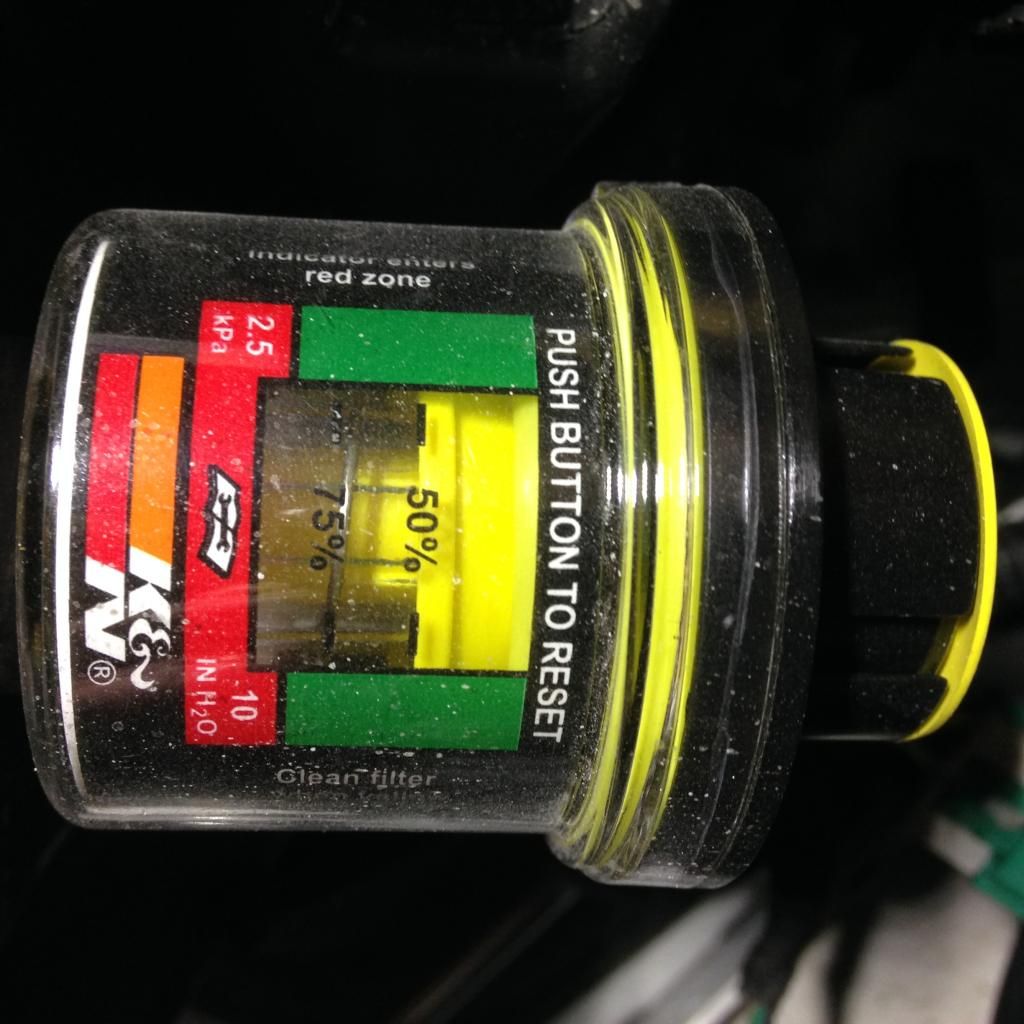 Yep, a 1.4T with a stock intake and a three year old air filter is only showing 5" H2O vacuum, about HALF (50% on the monitor) of what K+N recommends as maximum restriction for a high flow after market intake system.
Like I said, I'm not debating whether an aftermarket intake flows more air, it absolutely does. I'm just pointing out that the stock intake flows much better than most people will give it credit for.
If I decide to modify my intake in the future I will provide updates as to whether anything changed for the better. Also, the fact that it's winter time may have an effect also. We'll see if warmer temperatures change things.