AMSOIL Signature Series Engine Oil
If you are interested in or considering using AMSOIL products in your vehicle, this thread will explain the benefits and features of that product.
Specifications:
Application: Cruze 1.4 Turbo (4.25 quarts) and 1.8L Engines (4.8 quarts)
Recommended viscosity: 5W-30 (for most climates) or 0W-30 (for especially cold climates)
Meets DEXOS1 and GF-5 specifications as follows: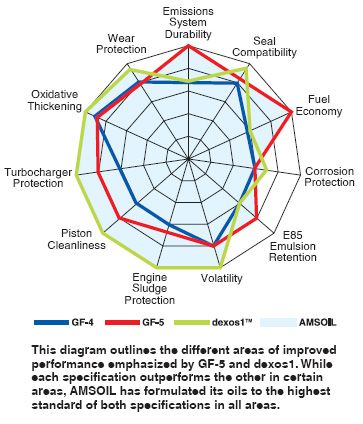 Benefits:
- Lower operating temperature through better heat transfer and reduced internal friction (traction coefficient). Since the 1.4T features an oil and water cooled turbo and piston cooling jets that are cooled with engine oil, a lower operating temperature will increase longevity and reduce long term maintenance costs.
- Extended drain intervals as follows:
- 1.4 Turbo: 15,000 miles or one year, whichever comes first. Filter change at 7,500 required.
- 1.8L : 15,000 miles or one year, whichever comes first, under severe service driving conditions. 25,000 miles or one year, whichever comes first, under normal service driving conditions. Filter change every 7,500 miles required.
- Small increase in fuel economy. Based on engine-only testing in stop and go diesel fleet trucks, I would conservatively estimate this to be an approximately 0.5% to 1.5% improvement.
- Easier cold starts and better fuel economy during warm-up times in cold weather.
- Superior wear protection, especially under severe service conditions.
- Reduced oil consumption under severe service conditions and extended drains.
- Exceeds Dexos1, API SN, and GF-5 specifications.
AMSOIL Signature Series engine oil is a group 4/5 based true synthetic lubricant that has no equal in the industry. Mileage guarantees are backed by an engine repair/replacement warranty by AMSOIL should the lubricant fall out of OEM specifications within these durations. Owners save money with AMSOIL through extended drains and reduced long-term maintenance and repair costs. Extended drain intervals reduce environmental impact. All AMSOIL products are made and packaged in the USA.
Order Information and Pricing:
AMSOIL Signature Series 5W-30
AMSOIL Signature Series 0W-30
Wholesale Pricing Options
Free shipping on orders over $100
Warranty Information:
The AMSOIL warranty certificate can be found using the following URL:
AMSOIL Warranty
Frequently Asked Questions:
Q: Will going 15,000-25,000 miles on an oil change void my powertrain warranty?
A: No.
A: Regardless of what your dealer may tell you, the Magnuson-Moss act protects you from having your warranty voided by using a product other than what the dealer recommends or at a drain interval other than what the dealer recommends. If there is a failure, GM has to prove that the fluid's condition was outside of OE specifications at the time of the failure and that the difference caused the failure. Should this ever happen, AMSOIL's warranty will take effect.