Discussion Starter
·
#1
·
I'm back from the bowels of the internet to post and share the next part of my Cruze Build, or as some people would say, V4 [Going off of color, since it was stock Silver, Black Rose, then Khaki Green]. Anyhow, time to move away from the car show focus, and ruin the car even more than I already have, because I'm bored and want to have a Race Car. I think the last time I left off here it was around SEMA time back in 2015 when I had my red wheels. Either way, lets start with a re-fresher of where it was at before I started ruining it some more: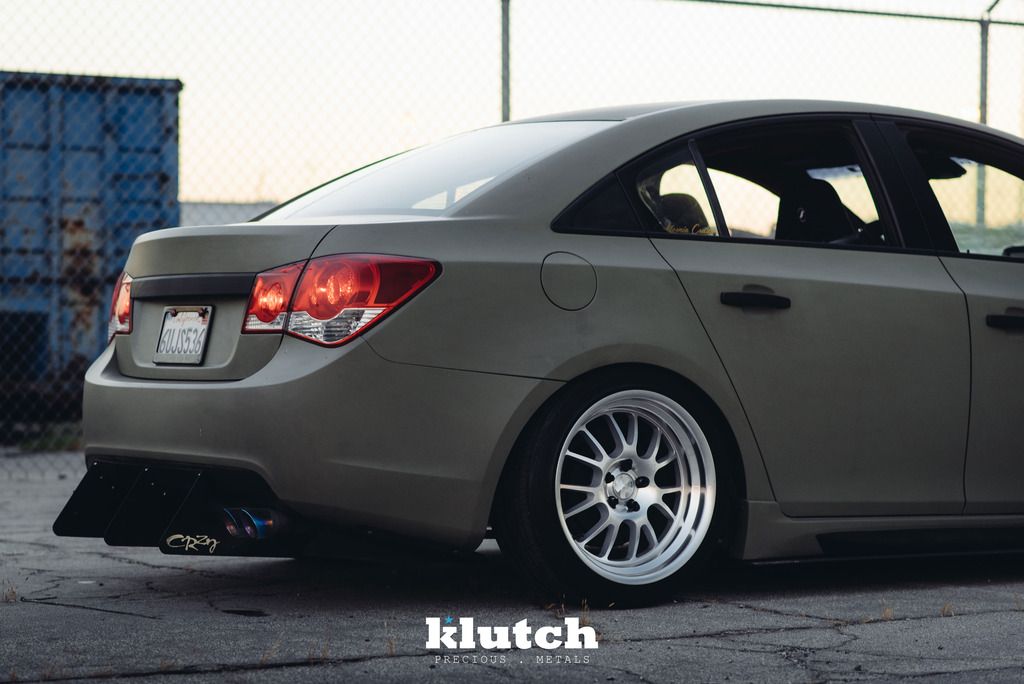 So much slow potato in those pictures... time to make it into a moderately... sort of quick potato.
Anyways, here is the starting [v3] mod list:
Exterior:
- NEFD Designs Front Lip & Side Skirts
- Z-Spec Grille
- MFR Engineering Splitter, Canards, Skirt Extensions, and Diffuser [Chassis Mounted]
- Avery Dennison Matte Khaki Green & 3D Carbon Fiber
- Winjet Headlights
"Performance"
- ISC N1 Coilovers
- Ultra Racing Front/Rear Upper Tower Bars
- Upgraded Pads & Rotors
- Klutch Wheels SL14s 18x9.5"
- Nitto Invo 235/40/18
- Injen Intake
- Custom Cat-back Exhaust
Interior
- Corbeau CR1 seats [Black Suede] w/ 3" 5pt Harnesses
- NRG Harness Bar
- NRG quick release & Carbon Fiber Steering Wheel
- BNR Hub Adapter
- Red Suede [Headliner and Door/Dash trim]
- Painted pillars & trim
Audio:
- Dayton Audio Ultimax 18s
- Dayton Audio RS180-4s
- SEAS Prestige Tweeters
- Boston Acoustics GT-2300 & GT-475
- Custom Door Baffles, and Infinite Baffle
- Andrei's magical touch
Current plans for this go around are:
- Acoustic Mod
- Weight Watchers 20 day free trial
- Dat Weave
- Fake Dead Animals
- Corn Fed
- I'm Blue Dab ah dee dab ah die
- Tubular Duuudddeeee
- Dat Purp Drank
I will be adding more to the plans list as time goes on. And as you might have been able to tell [congratulations, you earned a high five] they all have joke names that still pertain to what I'm doing, because this is after all, Project Full Potato. Stay tuned, I'm already like 2-3 posts deep into this build and will be posting them shortly.