Discussion Starter
·
#1
·
I dont know about others but im the kind of person who has no motivation to do any kind of mods due to thinking things are too hard or too troublesome and also keeping budget in mind. I finally mustered up some strength to start trying some things out and want to share my experience and hopefully encourage others. heres my ride:
white 2012 LT1
First thing ive done is a debadge - my dealer stuck on a really big logo, looks really out of place. here are some before and after pics: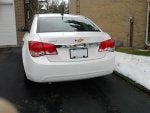 The logo has most likely only been on the car for about 5 days before I removed it. It was really really easy, took about 2 minutes. all i used was a hairdryer, some dental floss and wiped it clean after with a cloth + some cleaning solution. If any one is looking for an ez (basically free) mod this is your first step!
due to the cold temps i was withholding any other mods but weather is saying that im gonna get +10 C over the weekend so i plan to start the below(will have pics after i finish)
vinyl mods:
- Received my black carbon fiber emblem overlays yesterday 2$ off of ebay sent from china, received in 20 days from the day i ordered it.
- tail light tints also bought off ebay 4$ for both tail lights sent from china, bought on same day as the emblems, not receieved yet
- black matte vinyl over the diffuser, havent bought the vinyl yet but i think its 3$ per sq foot
- black gloss vinyl over the roof, about 50$
will be doing all this myself since professional installation is VERY pricey, over 100$ to install vinyl over the roof
rear lip spoiler: i just ordered this, this morning for 86$ and they paint it according to the color code you give them, also from china will let you guys know how it is when i receive it + pics
other mods i want but still unsure of:
- shark fin: also relatively cheap but i kinda like the stock attena
- bazooka sub: no idea how to install
im clueless about the mechanical and electronical stuff
- 18" rims: selection doesnt seem too good due to the cruze bolt pattern + i live in canada. my budget is 1000 so money is a very big issue here.
- led strip fog lights: no idea how to install + quite pricey
feedback, tips, additions, new ideas all welcome!