First off I'll say that the device I have gave me error code P00B7. Let me explain the complete story.
2011 Cruze:
Earlier this summer, when my A/C was on, the fan in my hood would turn on full blast that sounded like a vacuum cleaner running. When I turned off my A/C, it would stop making that sound. Fast forward to today, I am on my way home with no A/C running. I get pretty close to home and my check engine light flicks on. The fan then makes that loud vacuum light sound and is spinning big time. Also my heat blows cold air even after driving the car for awhile.
My temperature sensor on the dash is reading normal (about halfway between C & H). I pull home and call a good friend who knows plenty on cars. We determine that the Antifreeze reservoir is completely empty. Bone dry. We add some water to it and drive it to his house (Temperature sensor still reading normal). We open the hood and notice that there is fluid leaking from the rubber tubing connecting the antifreeze reservoir to the thermostat as shown below.
The highlighted part was also very wiggly and did not feel secure. We originally thought the leak may be coming from the thermostat right where the plastic part connects to the motor. We decided to order a new hose and thermostat, but are still looking for some advice as to what you guys think it may be. This is what thermostat I have: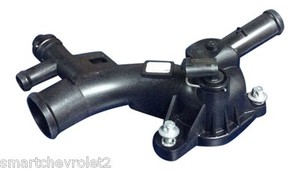 Thanks for any advice beforehand.