1st I apologize for re posting this topic as it was originally a part of my "ONE thing to change" thread. Just in case no one wanted to change anything and decided to not post there, and I feel every Eco owner needs to know this fact
.
GM states in Eco specs that the gas tank is 12.6 gallons, as compared to 15.6 to all other Cruze models, in effort to reduce weight for max fuel economy. I posted that I would want a bigger gas tank, then some faithful posted stated that the gas tanks on ALL Cruze models are the same and that GM engineered for the nozzle to stop at 12 gallons for the Eco. He/she also stated that, with PATIENCE, all we had to do was constantly pump the nozzle for desired fuel capacity.
Well, this evening it was time to test this as I was at well below for ECU to measure how much fuel I had left.
This photo is my proof that my beloved Cruze Eco was at this pump....
I begin to fuel. At around 12 gallons my nozzle trips. From 12 on, I stood there for the next 3 gallons constantly flicking my wrist on that dam nozzle...and behold!!!!....15.6 gallons in my Cruze Eco!!! And mind u all, nothing spilled out...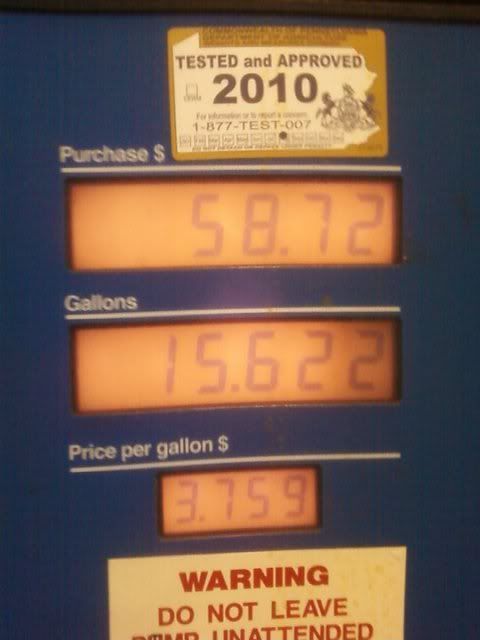 I did wonder why my fuel needle was below the FULL tally, even my salesman insisted that he filled my tank after purchase even though it didin't show. So now Im convinced that my tank is the same as all other models. Next photo shows my fuel gauge ABOVE the fill tally, whereas before letting it fill without the effort was between that next tally.
http://i14.photobucket.com/albums/a320/usaalways