I got my Cruz in April 2013. At the time, was driving 90 miles one way to work, needed something more fuel efficient:
I put almost 70k miles on her in 3 years, and while she never left me stranded, the check engine light has been on at least half a dozen times, and I believe this last time she was in the shop was the 8th time. Everything from return oil lines on the turbo, to door lock issues, to brake booster problems, to replacing the turbo altogether (more on that in a bit). And with a 9 and 7 year old, as a single dad, I needed to move on to something larger.
I did take her for a final farewell tour, took the two kids from Omaha to the mountains in Colorado, then down to the Grand Canyon, over to the Hoover Dam, then Disneyland, on to Seaworld, then up through Utah, Wyoming, and back into Nebraska. We did that trip in 8 days. LOTS of driving, but thankfully, the DVD player wedged perfectly between the front seats, so the kids had entertainment. Kept the aux cord plugged into the car stereo, I cannot tell you what a delight it was to listen to Despicable Me II 4 times during the last two days of the trip :blink:
It was shortly after that the CEL came on, and the dealership replaced the turbo, under warranty (100k powertrain). From day one upon getting the vehicle back, it smelled like antifreeze. I called the day after I picked the car up, and was told to give it time, that it was likely due to the replaced turbo, and that "it should go away". Well, it never did, and then it started leaking antifreeze a little while later.
I took the car in, and was told that the issue was a cracked thermostat housing. It was going to be 400 dollars to replace, and it was not going to be covered under warranty. Now, here is where my question comes into play: It appeared to me that you had to remove a line directly from the thermostat housing as part of the turbo replacement, and from what I'm reading online that seems to be confirmed. Not that it's much of an issue now as I've traded the car in, but did I have much of a leg to stand on if I'd wanted to have kept the vehicle longer? That issue and the lack of dealer support were kind of what really finally sent things over the edge and got me in gear to ditch the Cruze. I wanted to wait till April 2017 to move on to another vehicle, but it felt like the dealership left me holding the bag following their error, the car never smelled like antifreeze before the turbo replacement.
Anyways, just wondering if any of you have any input on that, I could be completely wrong, and I've got no worries if that is the case, I'm thick skinned.
Oh, so on to the replacement. I probably won't get much love here as I'm a Dodge guy at heart:
2014 Ram Ecoboost Crew Cab Bighorn Edition
Black Gold Pearlcoat paint
Tow Package
Rambox Storage
Autostart
Bluetooth Uconnect
Runroof
Towing Mirrors
Heated Seats and Steering Wheel
Backup Camera w/ Park Assist
The only thing fuel efficiency wise that the truck does not have is the air ride suspension that lowers the truck down at highway speeds, and apparently that costs me a couple or 3 mpg. Even so though, for a full size truck, it does pretty good: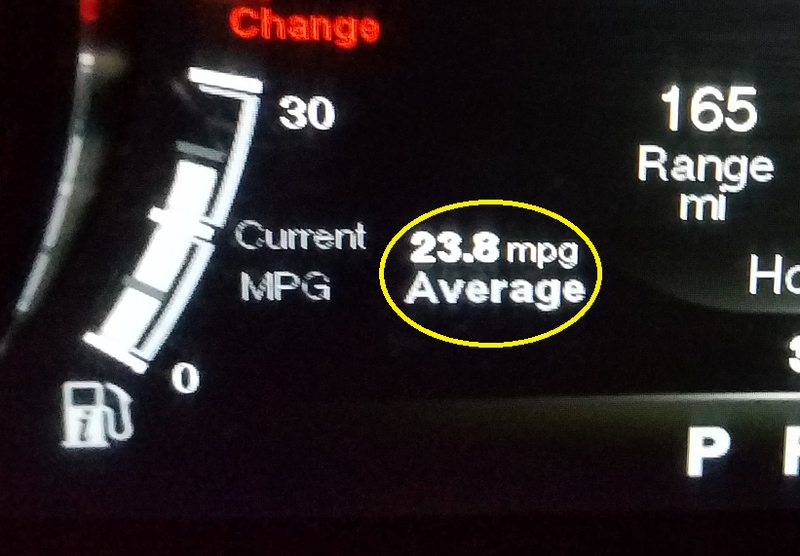 So, I give up about 10 mpg on the freeway, but I do enjoy driving a truck once again. I will miss the ole' Cruze, despite her issues, she did a pretty decent job for me.