I've ordered LED bulbs to replace the following factory incandescent bulbs:
Back-Up Lamp - 921K
Front and Rear Sidemarker - 194
Front Parking/Turn Signal Lamp - 7444NA
Rear Turn Signal Lamp - 7443NA
Stop lamp/Tail lamp - 3057K LCP
I've found LEDs that work just fine to replace the above mentioned incandescent bulbs. I ordered x4 resistor kits to prevent hyperflashing as these bulbs do not have built-in resistors.
Below is a screenshot of the bulbs and resistor kits ordered from
Diode Dynamics
If you're interested in doing this to your Cruze, I've included some pictures and steps below. I'm not writting out an exact step-by-step tutorial as you should have some basic knowledge of electrical systems on vehicles if you're attempting this yourself. If you have any questions however, feel free to PM me or post a reply and I can help.
These are the parts ordered. The little bag of LEDs are for interior lighting which I also ordered.
This is the tail light with the resistor spliced in for the turn signal. Check below image for a closer look.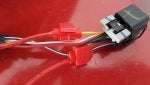 The black and white striped wire and the yellow wire are for the turn signal. The resistor can be spliced in in any direction, as long as you have one end on the black and white wire and one end on the yellow wire.
A shot of the stop/brake bulb and turn signal LED bulb in the sockets.
A shot from inside the trunk with the light installed and wire harness plugged in. I've mounted the resistor onto the metal frame and a convenient hole is there to zip-tie it on.
A shot from inside the engine compartment with the resistor spliced onto the right side turn signal bulb for the headlight assembly. The green and black wire are the ones you are splicing the resistor to.
A shot from the left side turn signal bulb in the headlight assembly. For this one, you're splicing the resistor into the blue and black wires.\\




Below is a video comparison. The right side tail light has the LEDs, the left side has stock incandescent bulbs.