I took the time to do a full writeup on this mod. I'd like to give a specific shoutout to sparspangled6.0 and Aaron/VA for their contributions and most of the photos I utilized for this writeup. This project is not necessarily a beginner project and I'd suggest if you have no mechanical experience to seek the help of someone who does. This writeup is meant to be a GUIDE and should not be seen as an instruction sheet. Use common sense always!
Required tools:


7mm,10mm,13mm,15mm,16mm socket (regular and deep)
3/8 ratchet and small extensions
10mm, 13mm,15mm open head wrench
Various crescent wrenches for sensors (forget the sizes)
Air ratchet (optional, but makes life so much easier)
Needlenose pliers
Vise-grips
Small flathead screwdriver
Ballpeen hammer
Small pry bar
PB blaster
Hex head socket set or long hex head wrench
Small pick for locking electrical connections

DPF Removal (credit to starspangled6.0):


Park car on level ground and set parking brake, chock rear wheel to prevent any movement.
Pop hood and disconnect battery connections.
Remove engine cover and set aside
Using a 10mm socket, take the upper heat shield off (4x 10mm bolts/nuts).

Using a 16mm deep socket, loosen the DPF/Turbo clamp, spray with pb blaster
Pull the NOX #1 Sensor, EGT #1 and EGT #2 Sensor from the DPF, set these aside safely (Don't need to disconnect them). Use a crescent wrench or sensor socket to pull these sensors!
O2 #1 Sensor remains in DPF until removed from vehicle. This sensor MUST be disconnected at the plug located along the radiator support.

Remove as many bolts / nuts holding lower heat shield onto DPF before jacking up vehicle. They are all 10mm, and I believe you can access at least 4 of them from the topside of engine bay (one is tucked on the side of the DPF driver side while looking at vehicle, this one was tricky).
Jack the front end of vehicle up as high as your equipment will allow for, and secure with jack stands. Re-check parking brake and never work under a vehicle without someone else around just in case!
Crawl underneath the car, and using your flathead and 7mm wrenches, remove the lower engine splash guard. A combination of 7mm bolts and push pins are used to hold this splashguard in place.
Spray exhaust flange bolts with PB blaster.
Working from underneath the vehicle, remove the remaining 10mm bolts/nuts holding the lower heat shield onto the DPF. Ensure heat shield is totally unbolted from DPF and remove it from the TOP. (You may need to bend the lower portion of the heat shield in order for it to clear during removal)
Be CAREFUL to thread O2 sensor wiring through heat shield during removal!
Pull the 3 bolts from the exhaust flange (13mm)
Next, remove the two bolts anchoring the DPF to the oil pan
Next, you must unbolt the DPF bracket from the engine block and from the DPF. Remove the two bolts that hold the DPF to the bracket, and then remove the two bolts that hold the bracket to the engine block (access all of these bolts from underneath car and use air ratchet with extension and deep 15mm)
Go back up to the DPF/Turbo clamp and remove the DPF from the turbo. Using a small pry bar and medium screwdriver, gently work the clamp off the DPF leaving it on the turbo. Avoid bending this clamp with pliers or channellocks. Save metal gasket for installation of downpipe
The DPF should now be loose and drop slightly down towards the bottom of the car. Working from the top, locate the two vacuum lines on the driver side DPF and disconnect them (it helps to have the extra room to access the hose clamps if the DPF is hanging down off of its mounting brackets)
Remove DPF unit from underneath vehicle. Be careful NOT to snag A/C connections!
With the DPF out of the vehicle, use appropriately sized crescent wrench or sensor socket to remove O2 sensor from DPF.
Using the appropriate sensor cleaning solution, clean all sensors that have been removed before reinstallation into race pipe.
Congratulations! You have now removed the DPF from your Chevy Cruze!
Oz Tuning Downpipe installation:

1. Each bung in the downpipe has been appropriately sized for each sensor. Thread the O2 sensor you just removed from the DPF into the appropriate bung in the downpipe before installation.
2. Place downpipe into position, reinstall metal exhaust gasket and work Turbo/downpipe clamp around new downpipe. Take your time and if possible, use two sets of hands.
3. Go underneath the vehicle and hand-tighten exhaust flange bolts connecting downpipe to exhaust.
4. Re-install NOX #1 Sensor, EGT #1 sensor and EGT #2 Sensor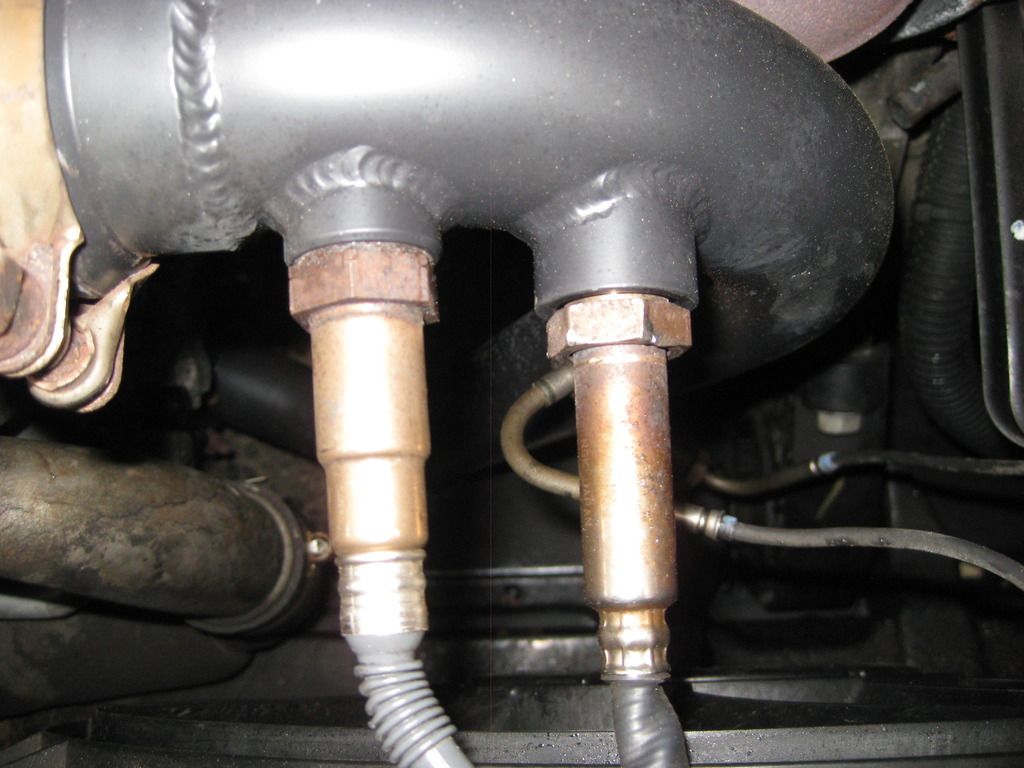 5. Vacuum lines removed from DPF are not utilizing with the downpipe
6. Ensure everything lines up and tighten down connections
7. Re-install lower engine splash guard
8. Lower vehicle back to ground level

EGR tube removal (credit to Aaron/VA):

1. Locate EGR tube on backside of engine block, near heater hoses and firewall
2. Remove 2 10mm bolts from EGR tube intake plate
3. Run your hand down the tube and locate the EGR sensor wire, trace this wire back and unplug it from connection on rear of engine block. This connection REMAINS UNPLUGGED!
4. At the base of the EGR tube, locate two hex head bolts holding tube to EGR actuator valve, remove both bolts.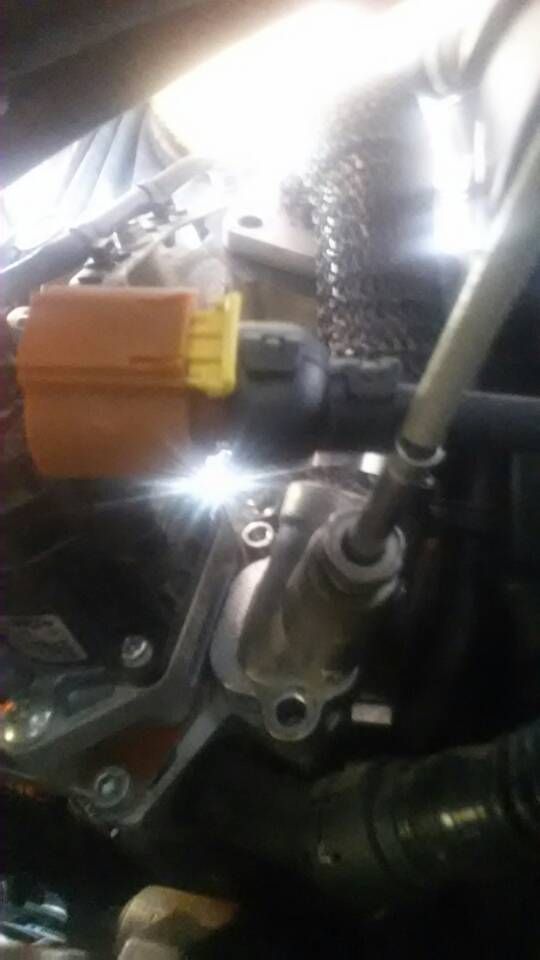 5. Looking down at the EGR tube, you will see a brownish/orange connection that goes to the EGR actuator, remove this connection, this connection REMAINS UNPLUGGED!
6. Remove the EGR tube and ensure both gaskets are removed from mating surfaces.
EGR delete plate install (credit to Aaron/VA):

1. Start with the lower plate, orient plate and gasket, thread bolts into plate and gasket first, then put into place and tighten at engine block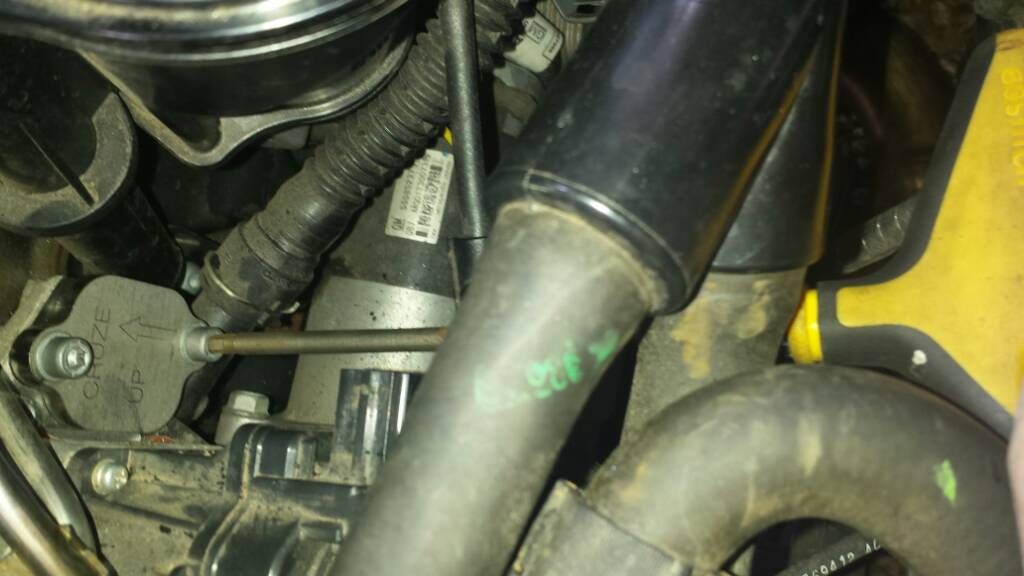 2. Same with intake-side plate, orient and thread bolts through plate and gasket, then attach to intake.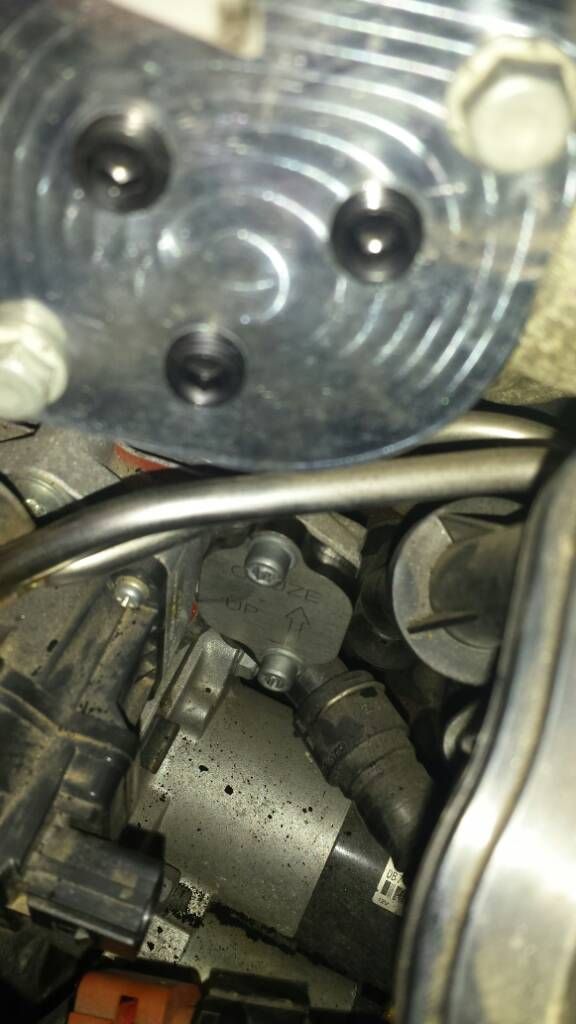 3. Install 3 NPT plugs into intake-side plate using thread sealant.
OZ tuning ECM recalibration / Flash:

1. Locate the Throttle Valve connection in engine bay, it is located underneath the throttle valve and is pain in the butt to get at! Unplug this connection, this connection REMAINS UNPLUGGED!!!!!
2. Re-connect battery if you haven't already done so.
3. Follow OZ tuning directions included in with your software.
4. ENJOY!
DEF tank removal (optional):

1. Remove trunk contents, trunk carpet, trunk floor.
2. Using the needlenose pliers, remove the 3 holddown bolts from top of DEF tank
3. Remove Styrofoam cover
4. Locate DEF tank and remove both feed and return DEF lines from top of tank.
5. Remove large electrical connection from rear of DEF tank
6. Locate 3 13mm bolts holding DEF tank to well, remove bolts.
7. Pull tank and components

Some additional notes I took while I did this install:


I did this whole mod by myself, overall took about 5.5 hours with beer and lunch breaks
Get as much as you can done with the car on the ground, and then put it up to work underneath. It's a PITA to get to the engine bay with the car on jackstands
Spray the downpipe/turbo clamp and exhaust flange bolts with some PB blaster before you begin to work
Disconnect the battery before attempting to remove the EGR tube...if you wrench hits the starter bracket it will arch!
The vacuum hoses that are removed from the DPF don't get re-attached
There are THREE electrical connections that remain unplugged after flashing the car with the OZ tune, the EGR sensor that is directly on the EGR tube that you remove, the Brown/Orange plug right next to the EGR tube (I believe its the EGR actuator), AND the plug underneath the Throttle Valve!