This thread will show you how to remover the headliner.


Difficulty rating

7 there are many screws and you will need around 2 hours to take off and put back together
Skill required rating

3 there is not alot of skill required in this prodject. mostly pulling, unscrewing, and tool/screw placement management.
Tools Required

small and skinny Flathead screw driver
needle nose pliers
torqx t20 bit
5/16 socket
Disclaimer: Please read all direction throughly prior to attempting. For electrical safety; disconnect battery by disconnecting the negative terminal. Wait 15 minutes before starting to allow all excess electricity to disapate.
To start you will want to pull off the pillars. Start at the top and give it a nice tug.
once the top section pulls out far enough you will see that the top is conected buy a hanger clip.
to get the clip off the pillar push the latch and slide the clip off.
from here you can pull the pillars out and lay them on the dash so theres no need to disconect the tweeters.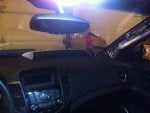 Next you want to remove to plastic cover above the rearview mirror. just push the center and pull each side out.