HOW TO: Service "Lifetime Fill" Tranmission fluid for Diesel AW AF-40-6 Transmission
There seems to be quite a bit of apprehension in performing any kind of service on this transmission in our Cruze diesel that is labeled a "lifetime fill" by GM but has a 50k severe service schedule in many past vehicles containing this very same unit such as Volvos, Saab's, Ford Fusions... I poured over different sites for different car makes before attempting this. The data I obtained told me that AMSoil will work just fine and that using GM's AW-1 was not necessary. Your mileage may vary, attempt at your own risk
I'm going to fill the transmission with
AMSOIL Signature Series Fuel Efficient Synthetic ATF
which is recommended by AMSoil for the AW-1 spec which our transmission calls for. GM AW-1 fluid is $22-25/liter and is mineral based. AMSoil is $8.90/quart for a full synthetic ATF if you are a
preferred customer ($20/year)
. Easy call for me. Some people fear how can a fluid recommended in so many different transmissions truly meet the AW-1 spec. The answer is simple...the transmission specs for those units are pretty darn close. Despite what people may think there's no where near the variance in ATF that there is in different motor oils for instance. It will not void your warranty, we have nice laws to prevent that.
I did 3 drains and fills with 10+ miles of driving in between to get up to 98% of the original ATF full of break-in materials OUT.

What you need
- T50, T40, 12mm hex socket, 3/8 drive ratchet, 2 long 3/8 drive extentions
(Edit by diesel - The T50 size worked for me the first time, but stripped the plug the second time. There is some evidence online to suggest this may actually be a T55)
- Preferably 4 jack stands so you can lift the car up fairly level.
- 1/4 nut driver + flathead screwdriver OR grinder with cutting wheel
- 3 Quarts of appropriate ATF per drain and fill
- A marked container or some other method to accurately determine how much old fluid came out
- Long, clean funnel
- A bright light so you can see what you're doing
- Plenty of patience and free time
Step 1.
Go for a nice 10+ mile drive so all fluids are 100% at operating temperature.
Step 2.
Safely jack it up on 4 jackstands. Try to get it as level as you can.
Step 3.
Open the hood and find the fill plug. You can see it's in between the engine and the coolant reservoir. The second picture is to give you a better idea of the general area to look. I was surprised when I realized I would not have to remove anything to access it. Get your 3/8 ratchet with two long extensions and attach your T50 head onto it. It's very tight working but you can reach around the back side of the engine with your left hand fairly easily to meet your Extended T50 and guide it securely into the fill plug. There is some hose/cable kind of in the way but I just push it out of the way to get the T50 on there. Just get it finger loose for now until you're ready to fill so no dust/dirt/debris can get in.
You may be wondering..why is he taking the fill plug off first? In my extensive research there was one person who waited until 100k to try and do this and were unable to remove the fill plug because it had seized on causing him to strip plug and so he had to weld a nut on top to remove it. You shouldn't have an issue getting it off but if you do, stop here, do not pass go, do not collect $200.
Side Note: I did come across someone who filled this transmission through the vent hose but that was just poor practice if you ask me, there could be some dirt or other debris in it that I don't want to wash back into my transmission.
Step 4.
Assuming you successfully were able to loosen the fill plug, grab your T40 and 12MM hex head with a ratchet and get under the car with a container to drain the old fluid into. I used a container with different measurements marked all over it. Now as you can see in the first picture there's a plastic cover in the way. There's a bunch of bolts and plastic rivet things holding it on. You can remove it to access the drain plug or if you are more about function over form take a cutting wheel of some sort and cut a hole in it exactly where the drain plug is for easy access! My drain plug already had some corrosion from the salt being trapped under that panel.
There are two drain plugs in one. Take your T40 and remove the first one letting all the fluid drain out. Next take the 12mm hex head and remove the whole drain bolt allowing the rest of the fluid to escape.
A little under 3 quarts came out each time I did my drain/fill. It did not look that great for only 16,000 miles. A very dark brown with a slight red hue. Once the draining is completed, re-install the drain-plugs. I do not know the torque values but don't go crazy, especially the little T40 plug doesn't take much
.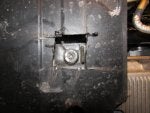 Step 5.
Using your fingers, completely remove the loosened fill plug. Insert your funnel and fill transmission with the exact amount of ATF that came out. Make sure the ATF used meets or exceeds AW-1 spec. Install the fill plug back in and again do not go crazy tightening it down, nice and snug is good enough.
Take the car off the jack stands for a nice 10+mile spin going through all the gears. I did this 3x to get 98% of the factory fill out and plan to do a single drain and fill every 30K from here on out. You will be surprised, the harshness of this tranny was gone IMO.