Discussion Starter
·
#1
·
While on my way to work Saturday, I noticed the tire pressure was low on the front passengers side tire. The DIC alerted me of this. It stabilized at about 27psi. Turns out a screw was stuck in it. I didn't have time to address it as I had to be into work. When I got off from work I found that the tire was still at 27 psi. I was lucky the screw was still in deep enough that it wasn't going completely flat. There is a gas station with free air not far from my place of work and they also sold those tire plugs. Sounds good right? Had my trust GM provided spare if anything was to get worse. Well unformtunately things got worse before any better.
long story short, the tire plug was garbage and would break before going in. I was left with no option but to use the spare and provided and jack with lug wrench. Attempted to loosen all the lugs and this happens
The lug wrench they provided warped and became useless against a particular lug and also did this to it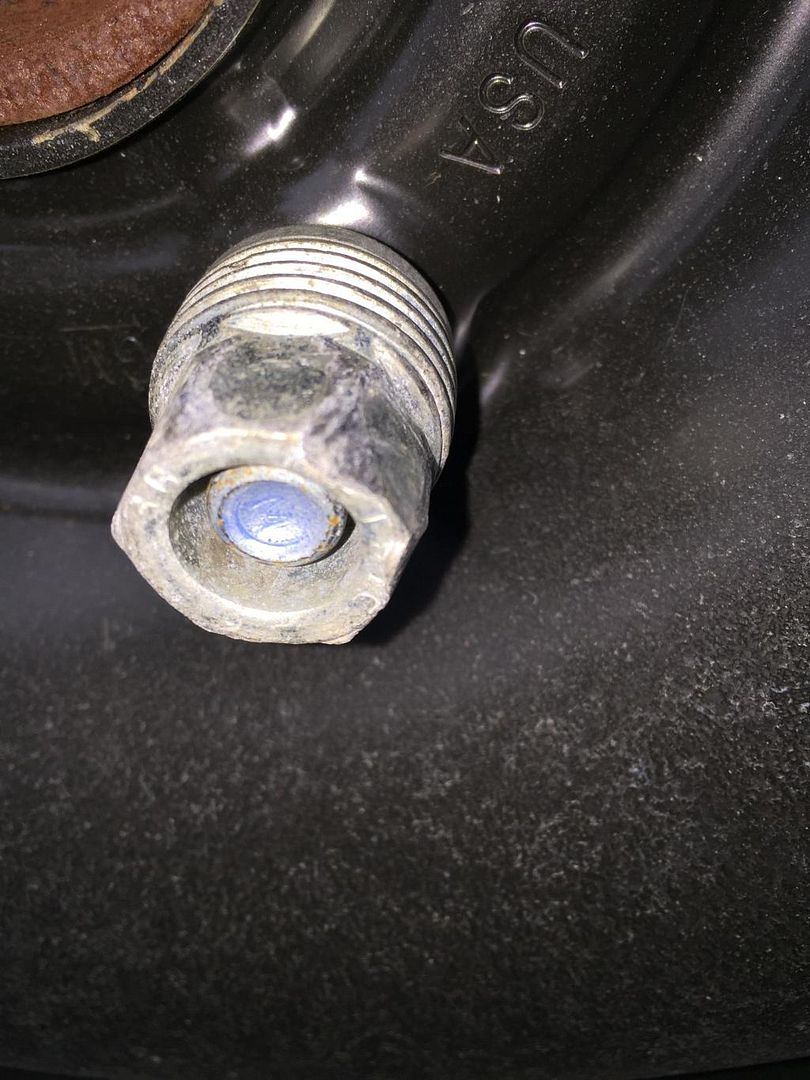 it began to actually warp the lug and was ineffective at removing it. I am quite disappointed at this. I never used the provided lug wrench before. My last flat I just so happened to have an old GM lug wrench from my father. Despite it being a little rusty I never had issues with it. Have done complete tire rotations with it. This new style mess is just that.....mess. I'll now be keeping the older wrench in my trunk and trashing that other joke that came with the car. I was left with my final option, the free roadside assistance.
the situation went from bad, in the cold rain to simply just annoying. I was greeted by a GM roadisde customer service woman and I was hit with a barrage of annoying and bizarre repeat questions. Here I am freezing and cold and all I wanted was for her to send someone out with the appropriate tool, a simple non-twisted up lug wrench so I could throw on my spare and be on my way. She almost tried to offend me and make me feel stupid because I was calling as a man who couldn't change a tire (as we all saw why from the pics) asking me all these stupid questions, some which almost had nothing to do with the situation. Once she found out the lug wrench was bent she kept going on and on about it. "Oh sir how is it bent?" "Is the bend bad" "is it this is it that....blah blah BLAH". Obviously is bent enough to render it r effective otherwise this conversation wouldn't be going on. After that she proceeded to final agree to send out help. But that's where it gets worse.
i tell her my location and she acts like she can't find it. I simply said I was at a device station on such and such street. Finally after not being able to find it I hung up the phone and proceeded to try to rectify the situation myself. Minutes later I'm greeted by the lady in the gas station with the phone saying someone was on the line for me. Wtf?? The road side assistant actually called the gas station to see why I hung up lol. So I was greeted with this sensual porno phone chat type voice who wham bs saying to be "awww why did you hang up is something wrong?" As if I was her bf who just dumped her. Idk all know the whole conversation with this woman was awkward. Instead of GM hiring in women or perhaps even men who are going to woo customers with their sensual voice, how about actually hiring someone who knows what the **** they are doing? And oh yeah the next morning I googled the gas stations name and street and instantly the results came up as first result with a picture of a map. So you mean to tell me these people who work for them don't have computers or smart phones?
Only good thing was the local person sent was very cool and efficient and came at a decent time. He was also respectful and didn't play the whole "this is my job, I know more than you" role when I kindly asked him not to use the floor jack on my car because it would destroy the pinch weld area. I simply don't like using those on my cruze and he agreed.
At the end I was called by that automated thing to rate the service. I gave it 5/5 for his sake because he did his part well, she however didn't. I wish I could have rated her without it reflecting the person who arrived to help.