Discussion Starter
·
#21
·
Amplifiers

​
So far, I've covered the driver choices, sound deadening, and the MiniDSP. In this post, I'm going to cover the amplifiers I chose for this job.
Front Stage Amplifiers
For the front stage, I'll be using two separate two-channel amps. These amps are a Coustic Power Logic AMP-160 and AMP-460. The AMP-160 will be used to power the tweeters, and the AMP-460 will be used to power the woofers. These provide 35Wx2 and 100Wx2 respectively @ 4ohms. These amplifiers were built in 1992, work perfectly, and cost me
$80 shipped
for the pair. I chose these because they meet my needs perfectly for power requirements, and because they are reliable. The fact that they've been running for ~20 years is proof of that reliability. They provide clean power and sound great.
Now, before I continue, I need to clarify some information regarding
impedance
. Some of you may have noticed that the speakers I chose are 8ohm speakers. This is merely a nominal impedance, which is defined as an approximate impedance across the entire frequency range. Speakers generally have specific impedance curves, through which they present the amplifier with a different load depending on the frequency. Here's a sample of an impedance curve. Note the different impedance measured at different frequencies: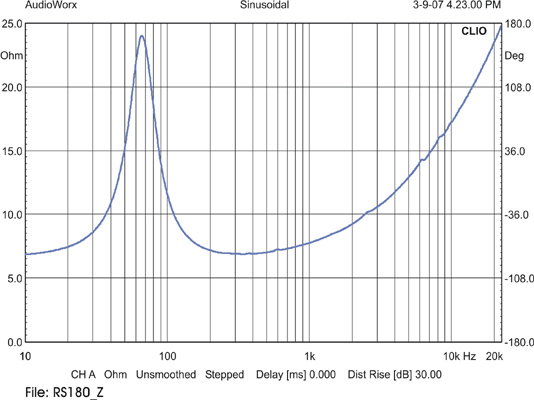 Impedance typically spikes near the resonant frequency of that driver. In my case, the MDT-44 tweeter's impedance is actually ~6ohms from 1300hz on up to 5000hz, hits 7.5ohms at 10,000hz, and 9.5ohms at 20,000hz. One thing to note is that in general, higher frequencies will not need a whole lot of power to get loud. You will notice that people may put 500-1000W through subwoofers when they want to get more volume, yet their tweeters aren't rated for more than 20W RMS. The MDT-44 tweeter I'm using will play 91db at 1W/1M, and tweeters typically don't experience high dynamic peaks like a subwoofer would.
Since I'm using a ~6ohm load on an amplifier that can produce 35W x 2, I can realistically expect a 20% reduction in available power over what it could produce at 4ohms, which gives me ~28W RMS per channel. Across both speakers, I've calculated ~115db SPL at 1 meter (shoved in a corner with boundary loading) with both of these speakers if I reach the amplifier's maximum output, which in all honesty will be louder than I will ever care to listen if I value my hearing.
The AMP-460 will be able to deliver ~75W RMS per channel to the Dayton DA-175, which will also be plenty of power.
This is actually a benefit to me. A higher impedance allows the amplifier to run more efficiently, thus drawing less power and creating less heat. For a given wattage level, an amplifier will run cooler at 8 or 6 ohms than it would at 4 ohms because less energy is being wasted as heat. Higher efficiency also means there will be less stress and load on my electrical system.
Subwoofer Amplifier
To power the IDQ15, I'll be using an Alpine MRP-M1000. I've been using this amp for a while, but I purchased it for
$150
last year. Run at a 4 ohm load, I'll have 600W RMS of power available. At this impedance load, this amplifier is 80% efficient, which makes it a great choice for my needs. Since the subwoofer is rated for 400W RMS, I'll have a bit of extra power for heavy dynamic peaks and will ensure that I can provide the subwoofer with distortion-free clean power up to its mechanical excursion limits without sending a clipped signal.