Discussion Starter
·
#1
·
The rear brakes disintegrated on the TDI thursday evening without a lot of warning, I had the parts so I was breezing through the process till I discovered I was missing the special tool needed for the VW rear caliper piston and was stuck trying to find one. So it's up on blocks while I hunt down the special tool. I also noticed that the front control arms were making a little noise since the car had been up on the rack for the turbo oil line repairs, which kinda sucks.
All things considered, I decided to get a new car this weekend. I have projects I want to wrench on (67 VW beetle, 72 VW bus) that go untouched while I'm keeping everything else running. Plus I have a bathroom that has been apart since New Years. Enough is enough.
As most of you guys probably know, I was planning on waiting till the decontented diesel was released but with no firm news on whether that will happen, the uncertainty over the actual new design when the car moves to the new platform, I decided to go drive the gas turbo version with the manual transmission. I was really concerned about the response of the car because I am used to driving diesels and having all that torque down low.
I can tell you that the 1.4 turbo gas car with the manual is pretty lively, compares favorably with my TDI. Peak torque is available at 1,850 rpm which is good and turbo lag seems minimal to the point of invisible, but I don't beat on cars so I may not feel it like someone else. I have a friend whose brother in law has this same car with an automatic and he gets mid 30's beating on it pretty hard so if this car gets anywhere near the sticker claim of 38 mpg, the differential in diesel versus gas prices should make this a wash.
All things considered, I liked the driving experience, fit and finish was good, the car had minimal electrical crap and chrome tacked on, and it was one of the colors I liked. There was a healthy rebate, my uncle is a GM retiree, so the price was right. I had them throw in a set of all season Monster style floor mats and bought it. Take delivery in a day or two, whenever I can get back to the dealership and they get it cleaned up.
Here's a link to the car:
2014 Chevrolet Cruze for sale in Beavercreek - 1G1PD5SB2E7295690 - Langs Chevrolet
Here are photos: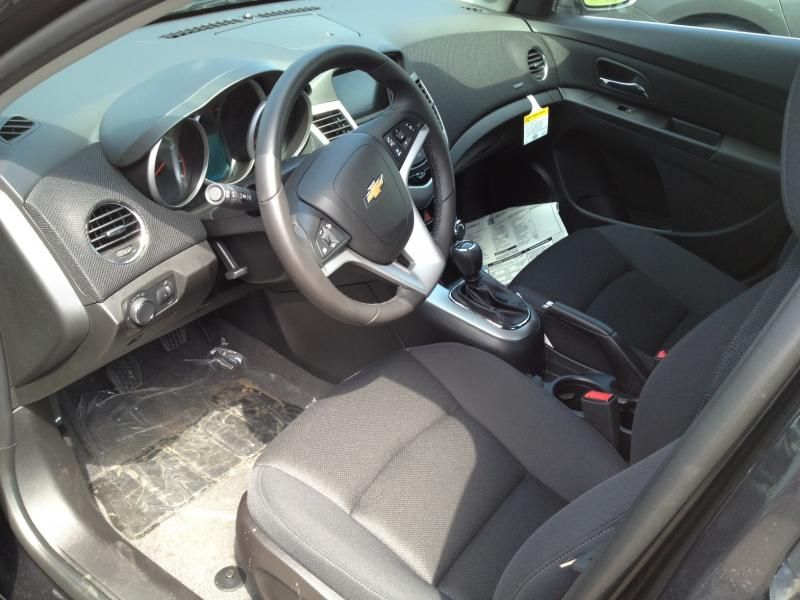 I haven't had a car payment in a long time but I guess it will probably be worth it not to have to spend time wrenching on the TDI. I guess this means I have to move to the gas side of the web site, haha. I hope you guys have good luck with your diesels, it's been tough to think about getting a gas car after all these years driving diesels but I don't see a huge downside to the gas version of this particular car. Time will tell.