Hi everyone. Just an introduction to get the formalities of it out of the way. My name is Jay. I'm new to Cruzetalk, but no stranger to automotive forums. My wife and I just bought a brand new 2014 Cruze 1LT Auto. It's Crystal Red Tintcoat with the Jet Black/Sport Red premium cloth. It was the only one on the dealer's lot with that combo and we fell in love with it. I desperately wanted a cloth interior since our last four vehicles have all had leather and the Trailblazer had three rows of it. It may sound strange, but the cloth is a nice change and I personally find it more comfortable. It's got the 1LT Driver Convenience Package, the All-Star Edition package, and the Technology Package. All weather floor mats and the cargo net pretty much round out the options. They also left the standard carpeted mats still in the plastic in the trunk, not sure if that was normal, but I got both sets. I get the GM discount through a couple family members, so we got a great deal on the car. We bought it last Tuesday and have only now had the dealer give us our free second tank of gas after a week and a day. Doing much better than our 2004 Trailblazer EXT we traded in that was getting 14/19 in the fuel mileage department.
This car will be my wife's daily driver. I got an extended warranty, so probably won't do too much to the car that will interfere with any of that. I'll basically be around the forums here to figure things out about the car and look at appearance modifications. We've already had all the windows tinted along with a brow added to the windshield.
I'm 41 and no stranger to cars. I've had more cars than I care to count. I've had a classic Mustang convertible and a couple of Corvettes. The wife and I also both had Grand Prix GTPs that were both fairly well modded before we just lost most of our interest in that platform, although I'm still an admin on our local Pontiac forums. I bought a Sonoma and she got the Trailblazer EXT after that. Now that our two kids are pretty much doing their own things, we really no longer had a need for the TB, so it got traded in on the Cruze. I do all my own maintenance, have rebuilt engines, installed transmissions, etc. I'm not afraid to work on anything.
I'm a certified auto glass installer and have been with the same company for over 20 years. I'm also a Harley rider and the wife and I ride whenever we can on our 2000 Electra Glide FLHTPI. It's an ex-Sheriff Dept. bike with a tour pack added. The motorcycle is our biggest hobby and savings account drainer.
Anyway [/end novel], thanks for having me and I look forward to contributing where I can.
Here's the Cruze (clickable pics)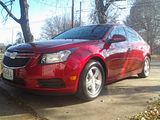 And here's my preferred mode of transportation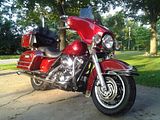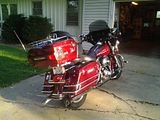 Oh, and here's my Sonoma. 4.3 auto, perfect for a V8 swap someday.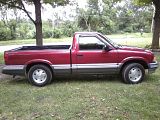 I swear I really didn't intend on all our vehicle colors nearly matching. It didn't even occur to me until I opened the garage door the night we brought the Cruze home for the first time. Haha